Use this library to learn about Meaningful Use and health information technology (HIT). Stay abreast of the latest hot topics in HIT — read about the services we offer and find trusted resources to help you along your path.
Services
Our services guide providers through electronic health record implementation and beyond. Read about what it's like to work with CHITREC on your journey to Meaningful Use.
Health IT 101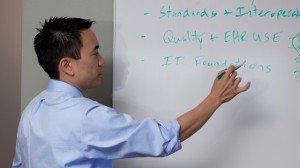 Increase your knowledge of all things HIT.  From Meaningful Use and health information exchange (HIE) to EHR incentive programs and acronyms, we have you covered.
Hot Topics
Click on any of the cloud links below to find CHITREC news and announcement concerning various topics: